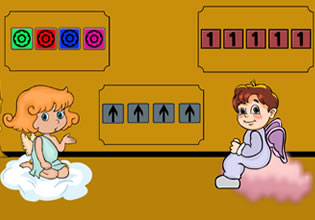 Find The Angel Feathers
Gab is one of the workers there in the gates of heaven. St. Peter is there in the gate waiting for the souls of the dead to grant them entrance, but as for Gab though he helps about everyone there who needs a hand. And that day, somebody needs assistance and it's one of the cherubs there.
Gab was asked by this angel to help her with her lost wings, it's weird why it is not with her but Gab puts forward in helping the angel find what she is missing for that is more important. Escape players, Gab might go just a few steps there or far in the clouds searching for those wings, want to help him then so that he can find it and give it back to the angel?
Find The Angel Feathers is the newest point-and-click retrieval game from Fastrack Games.
Other games by -
Walkthrough video for Find The Angel Feathers