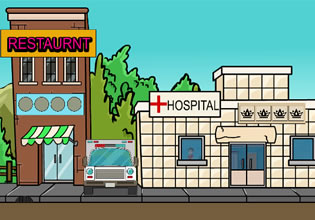 Find The Ambulance Key In Hospital
Rodney have done quite a job today, he managed to deliver all of his patients in his ambulance on time and they are all safe and taken-care of at the hospital. But when he was about to prep his ambulance again for emergencies can still come at any moment, he seems to have missed an item and it's so important that he had abandoned everything just to find it.
Rodney lost his keys to the ambulance! This is not good, most especially when he was the only ambulance that's available right-now. He needs to find that key before he gets a call. Escape players, lives are on the line here, want to help Rodney so he can ultimately prepare his ambulance for another response.
Find The Ambulance Key In Hospital is a brand new point-and-click item retrieval escape game released by Games 2 Jolly.
Other games by -
Walkthrough video for Find The Ambulance Key In Hospital