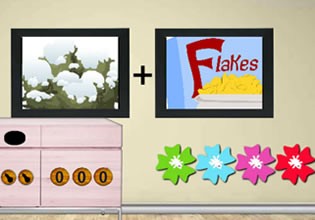 Find Thanksgiving Dinner
There was going to be a thanksgiving dinner at Parker's friend's house and of course he couldn't pass this out, for Parker's friend is a great chef and what he makes is always delicious, and so he went. Parker was the first person in his friend's house there while things are still being prepared. Parker would like to help then for he can't just sit and do nothing. Well, he must indeed for as he arrives there, some problem was actually happening there and they need help!
One of the helpers got trapped in a room there together with a few of the dishes for the dinner! What happened to her anyways? As Parker analyzed the situation, it was actually the door and not the helper that is the core of this problem. At the moment, Parker's friend is quite busy so he might need Parker's help here. Escape players, want to play as Parker on this and see if you can ever help with the problem?
Find Thanksgiving Dinner is a brand new point-and-click indoor rescue escape game released by 8B Games.
Other games by -
Walkthrough video for Find Thanksgiving Dinner