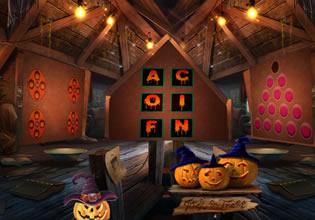 Find My Spider Halloween
The Halloween spider is a very grotesque thing to look at, but despite of that it is not out to get people though, for it exists only to ensnare things like bad dreams and dark auras, that makes it a good creature especially in Halloween hence its name, for Halloween is definitely filled with things that are not so nice and scary ones too. But that evening, that Halloween spider needs help and as the person who realized the situation, Evelyn is up to help.
Evelyn is the kind of person who gets nightmares more than the normal person, but ever since she befriended this spider her nightmares disappeared completely, it helps her in other words. So when Evelyn found-out what happened to it, she is going to return the favor. Escape players, Evelyn is going to help the Halloween spider for it is currently trapped in one of the houses there, she is going to need some help too for she can't do this alone though. Would you like to assist then so that the spider can be freed to roam?
Find My Spider Halloween is the newest point-and-click rescue escape game from Games 4 King.
Other games by -
Walkthrough video for Find My Spider Halloween