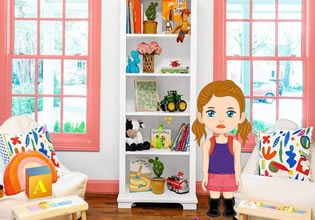 Find My Penquin Toy
Your daughter Alice is going around the house again, from room to room she goes and because she wouldn't stop, you finally asked her what was happening. Alice told you that her penguin toy had gone missing. It's nowhere to be found and she really could not find it.
You were familiar with Alice's toys and that includes this penguin she is trying to look for. It is not small, in fact it is hard to miss but the weird thing was it is really not in places it can be easily seen. Maybe it is outside? Or maybe she brought it somewhere other than inside the house? Both are neither and Alice knows it. Okay then escape players, will you be able to help find Alice's penguin toy here wherever it is in the house so she can finally relax herself?
Find My Penquin Toy is the newest point-and-click item retrieval escape game from Games 2 Rule.
Other games by -
Walkthrough video for Find My Penquin Toy