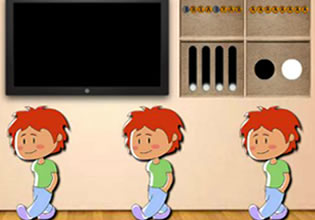 Find Little Boy John
Tobin's friend asked help from him for he couldn't find his kid anywhere! That's most definitely new, so he went for that is serious. As Tobin arrives at the house, his friend actually found him! But now he needs to get him out of this room for he is actually locked inside there the entire time!
Tobin is still going to help there, but for now it is finding the key to that door there rather than finding the kid himself. Escape players, the boy's name is john, want to play as Tobin here and see if you can get his friend's son John out from where he is trapped?
Find Little Boy John is a brand new point-and-click indoor rescue escape game released by 8B Games.
Other games by -
Walkthrough video for Find Little Boy John