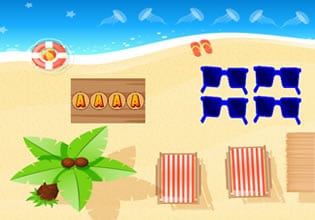 Find Life Jacket
There were very few visitors in the beach here that day, well that makes it great for Barry likes it that way. But before he takes a dip in the waters though, he needs something for he doesn't know how to swim. He needs a life jacket and at the moment he is having a hard-time in acquiring one. Normally it's not too difficult to find one here for there is even a life preserver house in the area which was open to rental, but that establishment is closed at the moment and he will have to find one just laying around the beach.
Barry is expecting to find one for he finds them all the time just sitting on the benches there and on the sand at times when he visits the place, but it seems to be a bit difficult right-now for there was none of them. Okay so will you help Barry here escape players so he'll be able to get what he was looking for? Go ahead then for two heads have a higher luck in finding items here than one.
Find Life Jacket is the newest point and click item retrieval escape game from Games 2 Escape.
Other games by -
Walkthrough video for Find Life Jacket