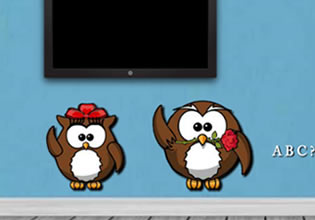 Find Hedwig Owl
Your friend Larry named his pet owl Hedwig, same as Harry Potter's owl. You wanted to see this pet of his that day so you went to his house and as you arrive, Larry was really trying to open this room and the reason was his pet Hedwig was inside and it's locked!
Larry almost didn't notice your arrival for he is really trying to get his pet owl from this room and the real issue was he couldn't find the key to it. Wherever could this key be anyways? Well, you are here now and you can very much help your friend with this and besides, you wanted to see this new pet of his. Escape players, will you be able to help in finding the key to the room and free Hedwig from there?
Find Hedwig Owl is a brand new point-and-click indoor animal escape game from 8B Games.
Other games by -
Walkthrough video for Find Hedwig Owl