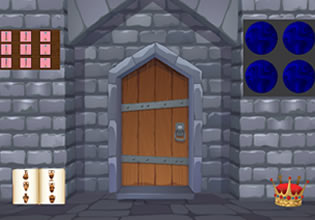 Find Funny Bat's Skating Board
This castle is where Denver and his friend bat lives, well not really live but it's more like their clubhouse and they hang-out there all the time. The place looks good though, ancient but it is roomy in there. That evening, Denver's friend bat came to the castle where he was for he was fixing-up some stuff there at the moment. He then asked help from Denver and it's about his skate board being missing and he couldn't find it!
That skate board, Denver knows it's pretty important to his friend, for he had seen him many times cherishing it. Well, he can postponed what he was doing there and help his friend first, but he doesn't know if he will be of help here for he himself don't know where that board is. Escape players, you will now be playing as Denver here, will you be able to locate your friend bat's skate board wherever it is? It could be in the castle here hidden somewhere.
Find Funny Bat's Skating Board is another new point-and-click item retrieval game made by Games 2 Escape.
Other games by -
Walkthrough video for Find Funny Bat's Skating Board