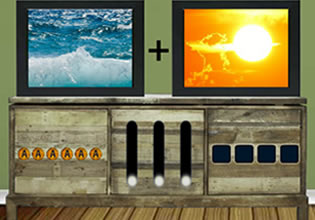 Find Cool Halloween Skeleton
It's Halloween and Donnie is going to his friend's house to meet this spooky skeleton which he said comes alive during the occasion! Donnie's friend pretty much keeps this skeleton under lock and key for the moment because it is still light and he will let him out tonight under the cover of darkness. Donnie would like to meet him though so he has special permission for his friend allowed him to. But there was an issue there when he arrived, for his friend couldn't find the key to the room where the skeleton is being hidden!
Donnie is now helping in finding this key, it should be somewhere in the house, but it's really not letting itself to be found. Escape players, looks like Donnie and his friend here are going to need some extra help to find this key to the room where this skeleton is. Will you be able to help free the skeleton so that Donnie can finally meet it?
Find Cool Halloween Skeleton is a brand new point-and-click item retrieval indoor escape game from 8B Games.
Other games by -
Walkthrough video for Find Cool Halloween Skeleton