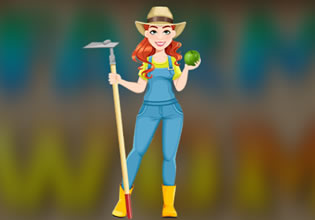 Farmer Woman Escape
How fascinating was this farmer woman who was really good with of course, farming. Her methods are rather delicate but even then when other farmers imitate her they can't even replicate her results. That means this woman could be something else really, and this could be all on her. But that day though it seems somebody might have become jealous of her, for somebody trapped her!
As one of the farmers there, you know that you did not do this to her, in-fact you were even impressed with her ways, but she is in trouble there and of course you are going to help. Escape players, you are the farmer who found her trapped, okay now your rescue shall begin. Will you be able to get the farmer girl out from where she is being held?
Farmer Woman Escape is a brand new point-and-click rescue escape game from Games 4 King.
Other games by -
Walkthrough video for Farmer Woman Escape