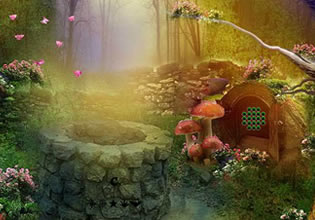 Fantasy Vegetable Hen Escape
This land here is magical and everyone who lives near it knows that, that's why they stay clear from it. But not everyone really forbids themselves to go in there though, one person must enter for the things that he needs comes from there. That person is Elmer and he is on the hunt again for things he can use to survive. Little did he know he is going to rescue something in the said forest and this one wasn't even a normal creature.
Elmer found what looks to be a chicken made of vegetables! He has seen a whole heap of weird things in this place, but now this one is the absolute craziest, the creature seems to be trapped in something too and is struggling. Elmer doesn't want to bother it at first for he is weirded-out of the creature to the point that he is scared to approach it. But eventually he decided to help free it and he needs a little help as well. Escape players, will you help Elmer here free this absolutely weird chicken from where it is trapped?
Fantasy Vegetable Hen Escape is the newest point-and-click animal escape game created by WoW Escape.
Other games by -
Walkthrough video for Fantasy Vegetable Hen Escape