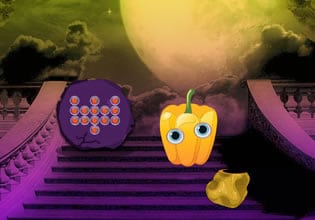 Fantasy Vegetable Forest Escape
Terrence is busy finding herbs and spices in this forest and he pretty much knows what the place and what it's capable of, but he still goes there for he needs to. This forest is home to strange things and unusual happenings, people tend to stay away from it though but not Terrence, for he gets his living from the place. Two things are making this forest very different, and first is the fact that there are vegetables there of different kinds and they are sentient!
These vegetables walks around for they have arms and legs and sometimes gives-out strange sounds. That's very weird, but they are harmless though, still he needs to be careful of them. And the second thing was is the place itself, it is difficult to traverse the place for it's like a maze in there. That day as Terrence goes, he will be in quite an unfortunate situation in the place, for he will be coming against both of the two things there and another thing, the sun is starting to go down! Escape players, Terrence have no help there for he came alone but he desperately needs it now, he has what he came for so and he now only needs to find his way out of the place. Will you be able to help him then so he can find his way out of the forest?
Fantasy Vegetable Forest Escape is another new point and click wilderness escape game made by Games 2 Rule.
Other games by -
Walkthrough video for Fantasy Vegetable Forest Escape