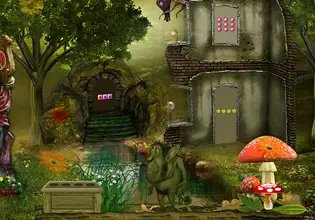 Fantasy Monster Rescue
You recently became a monster under the curse of a surprised witch. You're walking along the forest one day, when you happen to see a witch searching the ground. You try not to disturb her but you step on an anthill. Ants started attacking you and you can't help but yelp in pain. The witch suddenly look at you, chant a spell then she walk away. You're thinking it could have been more dramatic, but the witch simply turns her back. Then you wonder what her spell means. You look around and see a tail behind you. You turn a round to get a look at the animal behind you. But the tail is moving in sync with you. And then you realize what's happening. You have become a fantasy monster. Since then, you're living in the fantasy forest with the other monsters.
It's very peaceful in the forest. The monsters get along well. However one day, there was a commotion. Someone outside the fantasy forest is trying to break in. And not just break in but cause havoc to all its creatures. One of your friends is locked up somewhere and you need to rescue him. Fantasy Monster Rescue outdoor escape game by Meena Games lets you explore a fantasy world with its fantasy creatures.
Other games by -
Walkthrough video for Fantasy Monster Rescue