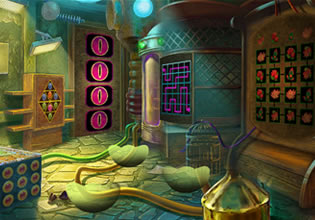 Fair Dragon Boy Escape
The villagers here are already on-edge thanks to recent happenings, but that day they got quite spooked for there was this boy who was dressed as a green dragon and he very much looked like he wasn't wearing a costume! Well, maybe he is not for upon further inspection, his suit would not come off. So just to be safe, they detained the boy until they are able to clear him if he is a threat or not. As a villager there, Rico very much knows this boy isn't, for he had met this kid before and he changes costumes from time to time, his suit might be busted and that's why he can't get out of it.
Rico cannot reason with the villagers for it seems that they have made their mind, he fears something bad might happen to him so he decided to free the boy but he needs to do that gently and without making noise. Escape players, Rico is seriously going to get in trouble here if he gets caught, but he needs to do something here now, so escape players will you help him?
Fair Dragon Boy Escape is a brand new point-and-click rescue escape game released by Games 4 King.
Other games by -
Walkthrough video for Fair Dragon Boy Escape