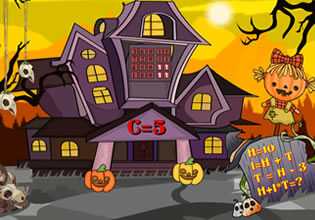 Escape The Pumpkin Kid
Everyone is merry in the neighborhood now despite of the things being scary there, that's because it was a happy Halloween evening for everyone in the place! As a person who lives in the area, Gary is watching the kids and the other people too for he is on watch for everyone's safety there. Well, thankfully he was on-duty, for one of the kids got into a little bit of trouble there.
Gary was now trying to get this kid who was dressed as a pumpkin out from the old house where he is trap! It's very weird for Gary, for why would this kid go into the said house even when it looked scary? Well, maybe he'll answer after he rescues him. Escape players, will you help Gary rescue the trapped kid and quickly too?
Escape The Pumpkin Kid is the newest point-and-click rescue escape game from Games 2 Jolly.
Other games by -
Walkthrough video for Escape The Pumpkin Kid