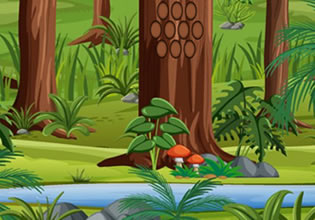 Escape The Pineapple King
Finnegan is in the forest again for not only he is on the search for supplies there, he seeks provisions from the pineapple king. Well, those provisions he seeks are of course pineapples, for the town where he lives have gone a long time without a supply of such. That fruit is really a treasure thanks to its scarcity, but now the townsfolk can say no more for he will come with a copious supply of it. But as he arrives at the heart of the forest though where the pineapple king lives, he found him in some trouble and he needs help!
Finnegan found the pineapple king trapped inside a cage! Now who would do this and how? This is clearly the work of man, but who for the whereabouts of the pineapple king is a tight secret? It might be that somebody found him at last and now they might use him for a profit or something. Finnegan will now do the most daring rescue in his life, escape players will you help Finnegan here so he can free the pineapple king quickly and potentially save him?
Escape The Pineapple King is a new point-and-click wilderness rescue escape game developed by Big Escape Games.
Other games by -
Walkthrough video for Escape The Pineapple King