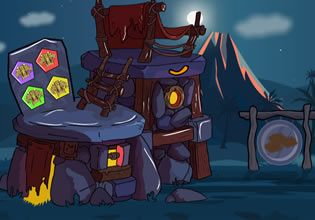 Escape The Notoungulata
We are back in the stone age and as a caveman, Uga is doing some chores to keep things in his area tidy and also so he can get ready for his hunt later. One of his chores was to release the thing in his trap for Uga have caught something he shouldn't.
Uga captured a young beast which they call a guant, and in modern times they are called a Notoungulata and it's a species of extinct ungulate which in Uga's times, are very much in multitudes. Uga caught a young one though and he needs to free it, for he knows these animals have a very keen sense of smell and if the adults smell their young one here, then they can wreak all havoc in his camp. Escape players, Uga needs help here to release this beast and remove all traces of it as quickly as possible. Want to assist him first with this special key for he cannot find it? It's the only thing that can open his trap there.
Escape The Notoungulata is a brand new point-and-click animal escape game released by Games 2 Jolly.
Other games by -
Walkthrough video for Escape The Notoungulata