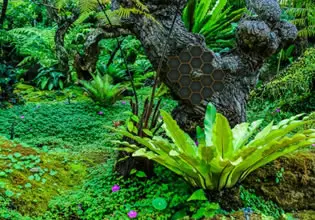 Escape The Free Birds
Jason is in the forest again for he does this every week, its just to detoxify for he is in the city mostly working and being in the place here really relaxes him. As Jason was in a specific area there near a river, things were okay there, except there was a cage on a random tree there and inside it were a range of colorful birds!
These birds as Jason checked were the rare type that lives in this place, this is not good, for he knew this was the work of poachers! There are poachers here roaming around, but thankfully he doesn't come across them except their wakes, wakes like this cage here filled with the rare birds. Jason decided to save these birds by freeing them, but he needs to do this fast though for if he isn't then he might get to meet one of the poachers there. Escape players, want to help Jason here so he can free those birds and quickly?
Escape The Free Birds is a new point-and-click wilderness animals escape game developed by Games 2 Rule.
Other games by -
Walkthrough video for Escape The Free Birds