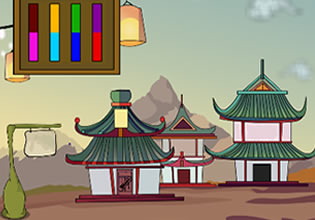 Escape The Chinese Phoenix Bird
On top of the tallest mountains in China, there is a very small settlement and in one of the ancient houses that's there, a creature of legend and is being kept, and that is the thing Yin was sent to retrieve. The creature is the so-called Chinese phoenix and the bird is only one of its kind and undying, that's because whenever it dies, it returns back to its egg form and waits until the day it hatches and grows big again. Yin doesn't believe this but this is a mission from HQ and whenever they give a task it is always a serious one.
Yin was briefed that the phoenix is currently in its chick form and therefore is not very big, it is quite small even. Still trouble in retrieving this creature shall not be non-existent, for surely that bird will not go as unguarded. Escape players, Yin is going to get this done and hopefully successfully, will you assist her then so she can get the heck out of the place swiftly?
Escape The Chinese Phoenix Bird is a new point-and-click animal retrieval escape game developed by Games 2 Jolly.
Other games by -
Walkthrough video for Escape The Chinese Phoenix Bird