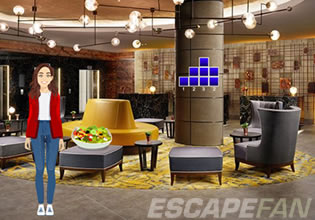 Escape Girl From Hotel
At first, this one girl in the hotel lobby was silent but was pacing. As a staff there, Dexter just lets her be for she might just be taking care of something. After a while, Dexter finally asked her what was going on, she said there seems to be some problems with the doors for they wouldn't open. The woman was about to ask him what was happening when Dexter asked her first, but the thing was Dexter was mystified with this as well for this should not be happening.
Dexter couldn't open the doors there too and he also got a bit unnerved. Who could have locked the doors here? Dexter shifted his focus on the woman then for she needs help more than him. Escape players, Dexter is going to find her a way out of here, so will you help him so that this problem can be solved for her and ultimately, for the entire hotel?
Escape Girl From Hotel is another new point-and-click rescue escape game made by WoW Escape.
Other games by -
Walkthrough video for Escape Girl From Hotel