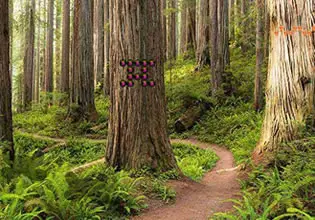 Escape From Redwood Forest
This land here is absolutely vast, well that is only given for what vegetation that are standing there are thousands of years old and most have a body diameter of 30 feet! The place is exactly called as to what stands there, redwood trees and those are absolutely massive. This whole entire forest is filled with them and that day, Anthony is there for he is following a trail that is going through the place.
The sight of those massive trees are absolutely humbling, these things have seen everything throughout human history, and that is why this place and these trees must be preserved. As Anthony goes there admiring the place, he started to noticed that he seems to be going in circles, he kept going until he finally realized he was lost! Escape players, Anthony is now lost there amongst the giant trees and because he is deep in the trail here, he cannot get any help. Will you be his help then so he can continue on his way?
Escape From Redwood Forest is another new point-and-click wilderness escape game made by Big Escape Games.
Other games by -
Walkthrough video for Escape From Redwood Forest