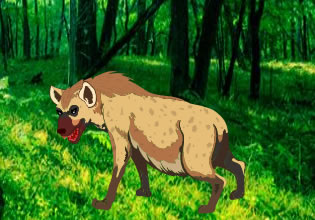 Escape From Hyena Forest
This forest here is very weird, for this is not the savanna or the dry plains of Africa, but there are hyenas living there! They are absolutely thriving, they must be escapees from somewhere and now they are slowly becoming locals there. Gregory is in the said forest at the moment and the place is getting a little intimidating, so he is trying his best now to calmly escape the place and trying not to attract too much attention.
Gregory just found-out that it's not actually that easy to escape from the place, for the terrain has a lot of blind-spots and the paths on some areas are not very clear. Escape players, Gregory must try to escape still before he comes across something worst there, like finding a hyena pup in his midst and from there the situation might spiral to something really bad. Will you help him then so he can safely get out of the place?
Escape From Hyena Forest is the newest point-and-click wilderness escape game created by Games 2 Rule.
Other games by -
Walkthrough video for Escape From Hyena Forest