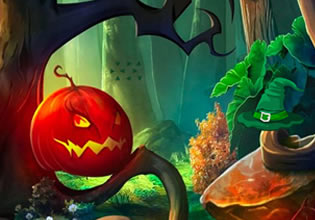 Escape From Cursed Pumpkin Land
The pumpkin land is now mysteriously lighting-up again for it is currently Halloween's eve. That signal is more than enough to tell people to stay away from it for the place is not so holy anymore. But that will not stop the adventurous ones though, and one was so adventurous and thrill-seeking that he entered the place alone!
That person was Oscar and what he did there is definitely not recommended, but he is an adult and has all the decisions for himself, well hopefully he is ready for what is about to happen to him. Escape players, you know what will happen to Oscar there now and he will obviously need some help there then. Will you be able to get through the spooks and help him?
Escape From Cursed Pumpkin Land is the newest point-and-click scary area escape game created by WoW Escape.
Other games by -
Walkthrough video for Escape From Cursed Pumpkin Land