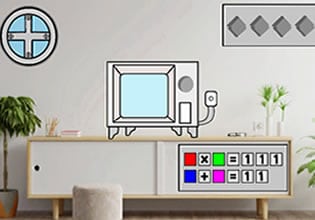 Escape From Black And White Modern Room
The black and white house is just a normal house but the one thing that stands it out from the rest of the houses though is its color, which has no other color at all but white. Well that is not the only thing that lets it stand-out though, but its strange ability too that traps people inside! It is still a great mystery why it is doing that, but just because they can't really explain what is going-on in there, they just chuck it to the place being haunted even though there is really no proof for that. But well who needs proof of a haunting? This is pretty much one of the strange happenings that would classify it, still that is pretty strange.
That day even, Mica was tasked to clean the place for she had been trying to find jobs around the neighborhood, and because she doesn't have any choice but to take the job despite of the fact she knows about the rumors of the place, well the money is real than those rumors now so she took it, little did she know that those rumors of it trapping people are very real and it will give her something to work into. Escape players, want to help Mica here with her eventual problem with the house? Let's see if your skills and logic will be enough to solve that then.
Escape From Black And White Modern Room is another new point and click indoor escape game made by Games 2 Jolly.
Walkthrough video for Escape From Black And White Modern Room
SIMILAR ESCAPE GAMES