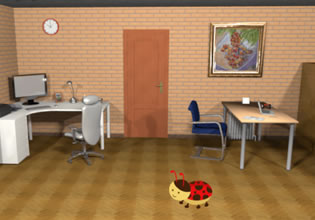 Escape Fan Room 01 Escape
Bruce knows his new apartment very well now, for he had exceeded his five-year stay in the place and now he is approaching to his tenth. That only means Bruce knows all of the secrets of his room and how safe it is, but then that's what he thinks for in actuality, there is still more things to worry about there and one actually happened that day and he didn't expect it at all. Bruce planned a little redecorating in his place, maybe just a little so that he can make it clutter-free and good to the eyes, but as soon as he started to move things, the situation quickly turned that room rearranging of his into a concerning escape!
Bruce was almost done with his fix when at some point it got warmer, probably all the activity and the heat he generated, so he approached the door to open it but sadly, it wouldn't. Bruce at first thought this was just a minor problem but it quickly become worst for now his signal his out as well as his landline! Bruce could not call for help and is trapped in his room, all issues are mysterious and he can only get help from you escape players. Come and bring yourself here with Bruce, maybe your skills and logic can greatly help him and have a thrilling escape yourself as well! Give it a go then.
Escape Fan Room 01 Escape is a brand new room escape game from Escape Fan. Explore the room and complete all tasks to escape!

Other games by -
Walkthrough video for Escape Fan Room 01 Escape