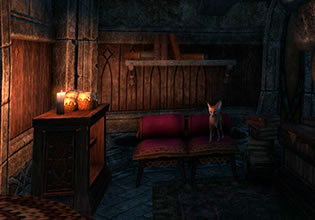 Escape Ancient Bungalow
You belong to a family of royal heritage. Your ancestors were once the most influential family in the land. They played a major part in the development of the town you are currently living in. They lived very comfortable lives as royalties. All the luxuries in the world are at their reach. Nothing could stop them. However, news of this reached other families at other parts of the nation. They grew jealous raided the castle of your ancestors.
After decades of constant war, the resources of your ancestors grew thin. Your ancestors had no choice but to go in hiding. This cost them most of their riches. They had to abandon their luxurious way of life. They consequently had to grow accustomed to living a humble life.
Fast forward to the current times, your great grandfather left you a note as part of his will. He has left you the ancient ancestral bungalow in your care. In short, you now own this place.
Escape Ancient Bungalow is challenging point and click escape game made by Avm Games. In this escape game, you decided to explore your very own bungalow. However, this is not just a simple and ordinary bungalow. To leave, you must look for clues and then solve some puzzles. Good luck!
Other games by -
Walkthrough video for Escape Ancient Bungalow