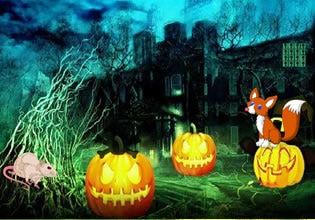 Empire Pumpkin Escape
The imperial pumpkin, it is a royalty of Halloween and that creature represents all pumpkins that are made into pumpkin heads for the occasion and at times, he even gives them spirit! And that's what makes some of them scary. Jason knows that very well for he had met the imperial pumpkin before. In fact they are connected for the imperial pumpkin gave him the ability to speak to him through the pumpkin heads and then some. He was rewarded because he once helped him when some trouble came to the spooky creature. That day however, another help was asked of him by the imperial pumpkin, well for Jason he doesn't have much to do that evening except give candy to the trick or treaters now, for he had done a lot of things earlier, so maybe he'll go and respond to this for this sounded very serious.
And indeed it was serious, Jason doesn't know of that fact yet for at the moment his mind was a bit off for he was tired already. Escape players, Jason's probability of failing here is high, will you be able to assist him then so he can get this done safely for him and save the imperial pumpkin from his trouble there?
Empire Pumpkin Escape is a new outdoors spooky rescue escape game developed by Games 2 Rule.
Other games by -
Walkthrough video for Empire Pumpkin Escape