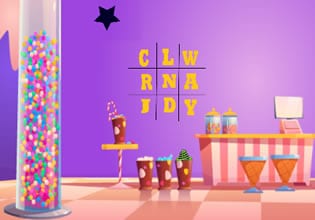 Emmi Candy Room Escape
Once again Angela is in her shop admiring all of the colors there in the room coming from the candies and the different kinds of sweets. Wish she could eat a lot there, but that's not really good for business and well if she can make a lot in sales then the extra is definitely hers for sweet snacking. Her first customer for the day was Emmi, which is not an unusual thing for Emmi is one of her regulars and because she lives just nearby, she comes in early. Maybe she can work here if she needs a sideline when she gets older, for she comes in early and that's quite a feat.
Angela saw Emmi coming from the street and she quickly went to open the door for her, but there was problem though for the door would not budge open! Angela have no idea what's happening here, she has no answers why the door is really sealed even, but Emmi is waiting outside and she needs to be let in and also for the rest of the customers later as well. That means she needs to fix this door here so her shop can really open. She was kind of confused why she didn't notice that earlier though, for the only way to get in is through the door. Escape players, want to help Angela here so she can open the strangely locked door of her candy shop and so she can let her first guest who was Emmi in?
Emmi Candy Room Escape is the newest point and click escape game created by Games 2 Escape.
Other games by -
Walkthrough video for Emmi Candy Room Escape