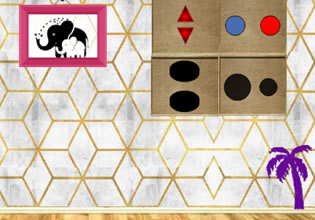 Elephant House Escape
You love animals so much. You love dogs and cats but there is one animal that you love the most. That is the elephant and this is the reason why there are so many elephant designs in your room. Although they are big, you find them really cute. You want to see a real life elephant and today is the day that you can see them. You are about to go to the zoo to see the lovely elephants when you dropped your key. That key is the only thing that can open the door. Without it, you can't leave the room. You really want to go the zoo so you have to move quick and look for clues that can help you to find the missing key. There are some puzzles that you might encounter.
You need to use your logic to solve those but you should not worry too much because there are hints that can help you to solve those easily. There are also items in your room that you can use to solve those puzzles. The zoo will close in an hour so you have to escape fast. Elephant House Escape is a room escape game by 8b Games. Good luck!
Other games by -
Walkthrough video for Elephant House Escape