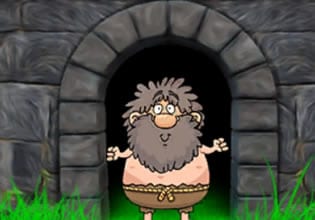 Dwarf Grandpa Escape
The old grandpa dwarf who lives in an ancient abandoned castle is a better dwarf than his younger kin who were kind of monsters to strangers especially to humans, in turn no dwarf likes him and he lives alone. He is a friend of the local people however, and that's why they take good care of him for he had been helpful to them through the years. One of which that grandpa dwarf had helped was Dominic and that's when he got lost there in the wilderness one day, from that time grandpa dwarf had been his friend and he visits him every so often. But that day as he did however, something happened to him and it's a good thing Dominic was there to help!
Grandpa dwarf just got trapped in some sort of contraption big enough to lock him in! Dominic quickly moved to help him and when he asked why he got trapped, it was his kin who tried to attack him and he needs to be careful now, for they are just around waiting once again to attack. Dominic needs to hurry then so they can leave at once, escape players will you help-out on this rescue and quickly?
Dwarf Grandpa Escape is another new point and click rescue escape game made by Games 2 Jolly.
Walkthrough video for Dwarf Grandpa Escape
SIMILAR ESCAPE GAMES