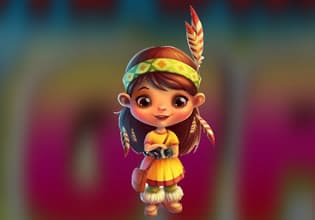 Dwarf Girl Escape
Veronica have no friends in the village where she lives, she was sad definitely because of that, but that all changed though when she met this strange girl who was quite small and they enjoy the company of each other. Veronica didn't really care who this girl was and why was she so small, she knows that this girl is really not a resident of the place for she never sees here there. She was mischievous though and that's why they are friends, for she does things Veronica would not ever do because she was soft. It was another day to play with her friend again so she went to their meeting spot, but she never thought she'd find her in a different place which thankfully she passed by.
Veronica found her friend inside one of the houses there and she was trapped! She finally went into the village! But she got in trouble! Veronica didn't think twice in getting her out of there then for she was in trouble, she looked very concerned and because of that she is going to asks questions later and do the rescue first. Escape players, want to help Veronica here? For she seems to be having a hard-time in prying the door there open. Find items around which you can use to free that girl.
Dwarf Girl Escape is the newest point and click rescue escape game from Games 4 King.
Other games by -
Walkthrough video for Dwarf Girl Escape