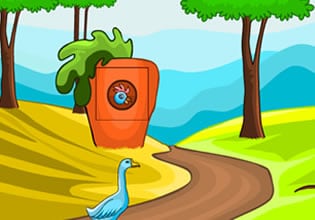 Duck Family Rescue
Guess somebody is really messing with the birds here in this area, for last-time you helped Webby the chicken rescue his family for somebody kidnapped them and scattered them each across the land. Well guess this rescuing of yours isn't going to end any time soon, for you will be going into the green wilderness again for the same task but this time, it's going to be a duck and his family.
That duck asked for your help the moment you went back after that rescue, this time it's a duck which was also named Webby! Okay, something is going-on in here now. Are they only targeting birds with this problem? Or only those with the name Webby? Or what about somebody is actually messing with you through this? Well whatever this is you are now getting quite serious and getting to the bottom of this is now a must. Escape players, you cannot deny another Webby's request for help here, for this might get worst and it could affect you directly. Will you help the duck Webby here find his family who was also kidnapped?
Duck Family Rescue is a brand new point and click animal rescue escape game released by 8b Games and Games 2 Mad.
Other games by -
Walkthrough video for Duck Family Rescue