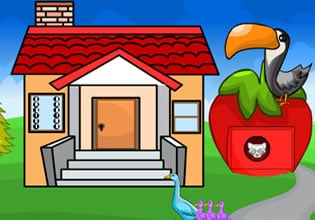 Duck Family Rescue 4
Webby have rescued another member of his kidnapped family and that's all thanks to your help escape players! This time once again, another rescue must be carried-out for Webby doesn't have everyone yet. Escape players, further help for Webby here is needed, he needs to get the last members of his family and quickly too for even though everything here is going his way, he still couldn't brush that anxious feeling he has, it's like something is going to happen here and it's likely not good. Webby still needs to keep going though for he can't just stop because he is feeling anxious.
Escape players, Webby here is indeed making some success in rescuing his family members, but he needs more help until he gets every single one. Will you help Webby the duck here once again and see if you can also find-out what's happening in the place or who could be pulling this?
Duck Family Rescue 4 is a brand new point and click animal rescue escape game released by 8b Games and Games 2 Mad. This game is a continuation of the previous one as its sequel, and is a part of the first game as the start of this series.
Other games by -
Walkthrough video for Duck Family Rescue 4