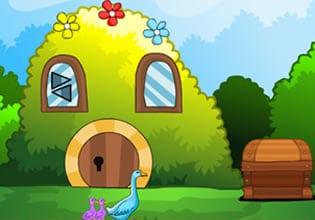 Duck Family Rescue 3
With your help escape players, Webby was able to rescue a member of his family and it's off once again to rescue another. Webby is getting really excited now, for this is going their way but still he needs not to stay complacent here, at least until he has every member of his family with him. It's kind of weird though why this rescue had been all easy, even with Webby the chicken's rescues, it was easy too and only the journey was the hardest.
Okay this time escape players, you, Webby, and two his rescued family members are in this strange farm area, it's most likely that the next family member is around here and they only need to find him by spotting clues and solving puzzles there. Okay then escape players, will you be able to help Webby the duck here once again so you can all go on to the next place for the next rescue?
Duck Family Rescue 3 is a new outdoors rescue escape game developed by 8b Games and Games 2 Mad. This game is a continuation of the previous one as its sequel, and is a part of the first game as the start of the series.
Other games by -
Walkthrough video for Duck Family Rescue 3