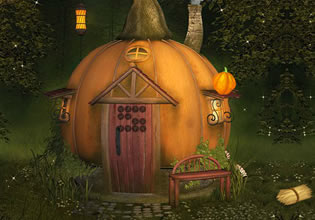 Dreamy Pumpkin Land Escape
The dreamy pumpkin land is quite an awesome place, it is filled with thanksgiving and Halloween things and of course forests of pumpkins as far as the eye can see too! This place is definitely unnatural, well it really is for it can only be accessed through magic, that's why that day Steve is there for not only that he can because he has magic, but also he needs something there which he must try to find first.
As Steve was roaming around though trying to find this thing he wishes to acquire, he got lost and that is definitely a new thing to have happened to him there! Escape players, Steve tried to find his way out but he really couldn't. Okay then, will you help Steve here escape before he gets lost even deeper into the place in his panic?
Dreamy Pumpkin Land Escape is the newest point-and-click place escape game from Big Escape Games.
Other games by -
Walkthrough video for Dreamy Pumpkin Land Escape