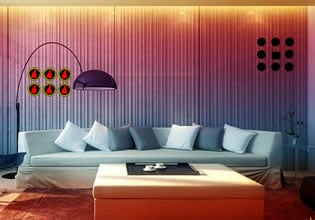 Dreaming Color House Escape
Christopher would really like to keep staying in this beautiful colorful house if the decision was his, but unfortunately he does not have that and he cannot stay in there for too long, for he is currently on a mission to take something there which was very important and he needs to get out as soon as possible. But it seems that the house has finally detected his presence for he might have triggered something in his rigorous search around the rooms and now he is trapped in the place!
Christopher managed to retrieve what he came for however and now that part is over, he needs to face that other problem which just came to be and he really must focus on that right-now. Escape players, you will now be playing as Christopher here and because nobody will be coming to save him and any minute now the owner of the place could return, you must use the best of your skills and logic quickly so that an escape path can be paved. Will you be able to tinker with the door there and make it out of the place safely?
Dreaming Color House Escape is the newest point and click indoor escape game from Games 2 Rule.
Other games by -
Walkthrough video for Dreaming Color House Escape