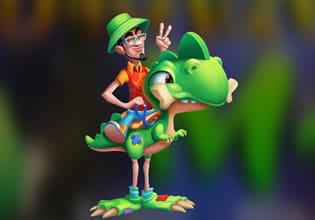 Dragon Man Escape
There was this one fascinating man in the village here and one that is making him so are the creatures he takes care of which were exquisite and exotic. His expertise is taking care of dragons big and small, he can train them very well to the point that some of the dragons can be played with by the children there and the others can be used as protectors of any place. Nobody else can do something like these things but him. That day though there was a missive from the king who governs the land including this place and it's very much urgent. This messenger was Dominic and he has a hunch that the message here is asking the dragon man as he is called for his services. But there was a problem with the dragon man though and he needs help first!
Escape players, you will be playing as Dominic here and you will be helping the dragon man first for he is currently in a bind. Okay then, face that now and do your best to solve this problem he is experiencing so that this so called dragon man shall be free and ready to answer the message.
Dragon Man Escape is the newest point and click rescue escape game from Games 4 King.
Other games by -
Walkthrough video for Dragon Man Escape