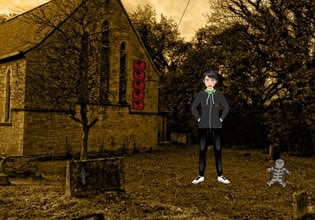 Devil Graveyard Boy Escape
The devil graveyard as locals now calls it is a place that dates back to medieval times, it is being enclosed by a dark and misty forest and well because of all of those factors, people don't really go there. As a curious person though, Rex went in there for he wanted to fill his questions about the place! Well, he should have just stuck with the answers of the people who have been to the place and escaped from it safely.
Rex got lost in the tombstones and mausoleums of the place! As he ventured around, he thinks he might be trapped too for when he tried some of the gates there so he can get out, he couldn't open any of them. Looks like the rumors about the place are starting to become true, but as this looks it is only just beginning and he doesn't want to see the other things anymore that the people have told him about this place, for this is already enough for him. Escape players, Rex is starting to lose focus, he really shouldn't do that in this place for that is only bringing him to a disadvantage. Okay now, want to help Rex here so he can safely escape from this old haunted graveyard?
Devil Graveyard Boy Escape is a brand new point-and-click scary place escape game from Big Escape Games.
Other games by -
Walkthrough video for Devil Graveyard Boy Escape