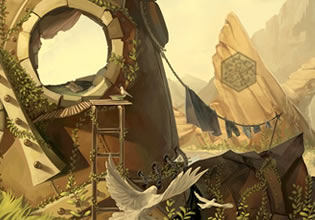 Destroyed Robotic Land Escape
The abandoned high-tech place here was suppose to be a growing technological mega-structure, but the land somehow collapsed due to many reasons and now nature is starting to take it back. One of the places Hans and his friends who lives nearby go to there is this robot junkyard, it is actually fun there and a lot of interesting things can be found. But that day when Hans came alone however, something happened and now he is a little-bit panicking.
Hans got lost in the robot area and now because he came alone, he doesn't have any help! Hans is not at ease there now, for soon the sun will set and he will be engulfed in darkness there with all of the robot junk. Escape players, Hans needs a helping-hand there now for this is seriously an issue. Will you be able to help him out of there so he can get back?
Destroyed Robotic Land Escape is the newest point-and-click area escape game created by Big Escape Games.
Other games by -
Walkthrough video for Destroyed Robotic Land Escape