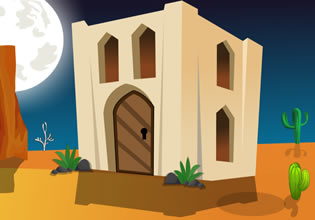 Desert Oryx Rescue
Reed is living peacefully in the desert here in his simple house. That day as the sun was starting to set, Reed just wants to have a cup of warm coffee while watching it set in the horizon, but then he caught a glimpse of his cage which was just beside his home and in it was an animal!
Well, Reed didn't expect to catch an animal today, it was an oryx and it's an animal he really didn't want to take and even have no plans for such an animal whatsoever. Okay then, he is just going to find his key to the cage so he can free this horned animal back into the wild. Escape players, come and help Reed here find that key somewhere so that he can.
Desert Oryx Rescue is the newest point-and-click animal escape game created by Games 2 Jolly.
Other games by -
Walkthrough video for Desert Oryx Rescue