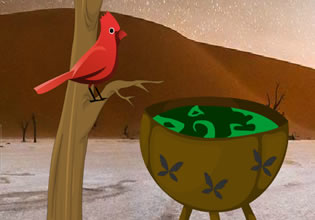 Desert Great Basin Owl Family Rescue
Desert Great Basin Owl Family Rescue is the newest point and click animal rescue escape game created by Games 2 Rule. Best of luck on this adventure!
The great desert basin is a host for different kinds of weird lifeforms and most are desert loving creatures as well as flora. Lou regularly traverses this area for the town where he lives and the next town over where he works has the basin in between it. One day, he had a bit of a problem with his truck in the middle of his journey so he had to leave it and maybe come-back to it with tools after his work, besides the town is very near now. Along the way, he keeps finding weird tracks of numerous people and it seemed like they were carrying something to a certain direction, it's just up ahead and Lou followed it. As he arrived to where the tracks seemingly relaxed, he would not believe what he had found.
There was this big cage and inside it were a family of giant owls which are endemic here in the basin! Well endemic or not these creatures are pretty scarce now, which means those needs to be saved. Lou was deciding on what he needs to do now for the owls are pretty endangered and on a side-note if he is caught by those certain people who set it there, then he might end-up dead. Well escape players, what would you do if you're faced with the same situation with Lou's? It won't be an easy decision so, good luck then.
Other games by -
Walkthrough video for Desert Great Basin Owl Family Rescue