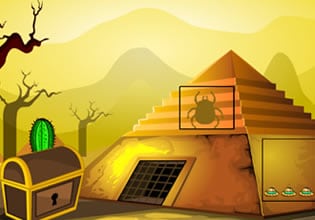 Desert Camel Escape (Games 2 Mad)
This desert here is home to a lot of ancient stuff and structures, they are beautiful and it's just sad that some of them have not received any care and other people there are even using those places as shelters. Soon those places are going to give-up on them and that's not good at all. But nothing can be done with that though so as a resident there as well, Malek have done his part by living in a house which he built and not use the old ones there.
That day he was going around the place again for he has chores there and stuff to take care of, but as he was doing these things he kept hearing this weird noise coming from one of the temples there. What was this noise? He asked. So he checked inside the rooms of the said place and that's when he knew there was a camel there and the thing was locked inside a cage! Now Malek have lived in the desert for a long time and he knows this is not the kind of thing to do to a camel. Okay he'll let this creature out for he never seen such a thing like this where one locks a camel inside a cage. Escape players, you will now be playing as Malek here and freeing this camel is the task. Will you help him then so he can? He'll talk to the owner of this creature then when that is all done.
Desert Camel Escape is another new point and click animal rescue escape game made by 8b Games and Games 2 Mad.
Other games by -
Walkthrough video for Desert Camel Escape (Games 2 Mad)