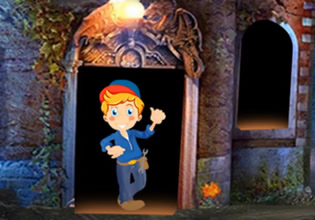 Delighted Mechanic Escape
The kingdom calls for the resident mechanic for one of their vehicles is ailing again, of course they would pick the one they trusts and they know he will be able to fix it, for the guy was a childhood friend of the king who governs the land and man, the guy can fix anything! But that day however, the royal family ordered their general to rescue the mechanic for once again the antics of the place captured someone and for the day, it was him. Of course the general who was Gerald answered the requests of his king and of to the rescue.
The king actually forgot to tell him that the halls of the kingdom which was not accessible to civilians has this strange thing which continually occurs since ancient times, it would get outsiders lost and that's why the royal family decrees it that nobody should enter in that area of the palace if they are not familiar with the place unless told to. The king forgot to tell his friend and now Gerald must do this rescue. Escape players, will you help Gerald here fulfill his king's request to rescue the mechanic? Come and test this game then from Games 4 King.
Delighted Mechanic Escape is another new point and click rescue escape game made by Games 4 King.