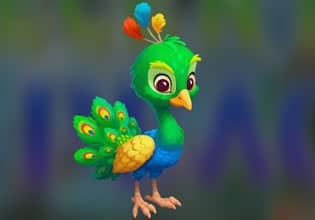 Decent Peacock Escape
Tina has this pet peacock and it was young for it is only starting to grow its colorful adult feathers. Tina loves this animal, actually she likes birds in general and she even has her small aviary back in her house. But what she doesn't like though was this little thing's habit to roam around outside the house which is a danger to it, for not only there are cats around the area, there are also various threats to it which can definitely bring harm to it. And that day something did and Tina was then out to the rescue!
Tina could not find her young peacock when she checked for him around her home, and when she tried to look for it outside she couldn't find it at all. She must not stop though and continue this search of hers, for she doesn't want to lose that little guy. Escape players, Tina is going to continue here wherever this may take her, want to help her with this then so that she'll be able to find her peacock? Be ready for anything then including a rescue.
Decent Peacock Escape is the newest point-and-click pet rescue escape game from Games 4 King.
Other games by -
Walkthrough video for Decent Peacock Escape