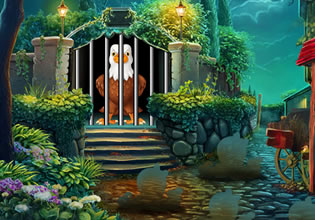 Dauntless Eagle Escape
This dauntless eagle is really a fearless one, it is the protector of this place and it is bold when faced with the enemies of the place. People likes him too for he really cares for them. That's why that day when something happened to it, one person was immediately there to help it.
The person who found him was Jodie and she always is around for she is an officer there. What luck this eagle has, but well they are lucky with their protector really, for he really works to protect the residents there, so Jodie must do her job as well. Escape players, this will not be easy for Jodie though for she hasn't faced something like this before. Would you like to help her then for the sake of the eagle?
Dauntless Eagle Escape is the newest point-and-click rescue escape game created by Games 4 King.
Other games by -
Walkthrough video for Dauntless Eagle Escape