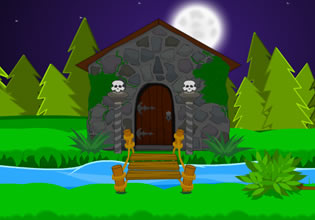 Dark Forest Escape
Come and join in on this wilderness escape adventure. Dark Forest Escape is the newest point and click forest escape game from Selfdefiant. Have fun!
After work, Jackson needs to reach his house by sundown for he still has to pass through a forest and it's kind of dangerous there at those times. Unfortunately, Jackson was asked for an overtime and after his duty, he had to pass through the forest in the night! Well he thought he knows a shortcut and that should get him home quickly. Jackson is now walking along the path which he knows is a shortcut, and definitely everything there was black other than the green and lush landscape he sees every afternoon when he aims for home, luckily the moon is out, but soon his luck will run-out for in the most worst of times, he actually made a wrong turn!
Jackson knew where he was going but at some point he might have taken a wrong one! For now he definitely knows he is lost and he just realized that. Escape players, Jackson here hopes it isn't too late and he can still get back to the right path, but it's night then and it can make this situation difficult, but not at all impossible to escape from though. Join Jackson here and good luck as you traverse the forest through the dark.
Other games by -
Walkthrough video for Dark Forest Escape