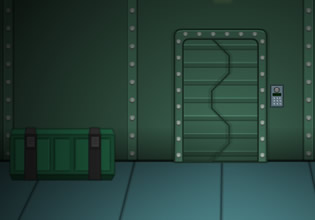 Dark Bunker Escape
Remus just found-out about one of the deep dark secrets of the complex and when he did, a team then captured him and he was knocked unconscious! Now he woke-up in that same dark place which he discovered. Remus works as a normal employee there in the installation and because he was one of the lower ranking workers in the place, he has no business in the off-limits area and what can he do? He just got very curious about what is being done in the place where he works and as a person who loves mysteries, he just wanted to know what as discretely as possible, but it failed and now it seems to be that he is being punished.
Remus is now in the sealed hall which he discovered and it seems to be that he is trapped for the hatches won't open no matter how he tried. It's still very strange for him for the sealed complex seems to be lacking of things and was very different in the general area where he works. Remus is starting to think that there could be a monster here being hidden and that's why it's off-limits! If that's the case then he really needs to get himself out of there! Escape players, will you be able to help Remus here escape from the dark bunker where he was? Be clever then and absolutely careful too.
Dark Bunker Escape is a brand new point and click creepy escape game from Selfdefiant.
Walkthrough video for Dark Bunker Escape
SIMILAR ESCAPE GAMES