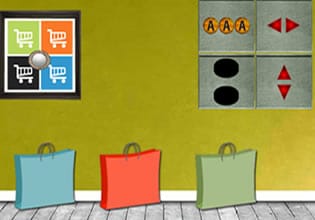 Cyber Monday Shopping Shoe Escape
Cyber Monday was happening now and Alicia was ready to leave for she was planning to buy something for now it's on discount! Alicia was about to leave her place, but she couldn't for it seems that she couldn't get something from inside a room in her house.
Alicia was about to get her shoes inside her dressing room there for she would like to use that for shopping, but the door to that said room was not at all cooperating for it wouldn't open on her despite of her efforts! After a few dozen minutes she decided that enough was enough, she is going to find the key to it and get this done. Wonder why she took that long to finally get the key, but that's the problem though, for she doesn't know where it is now! Alicia should really keep her keys in one place so she'll know where those are. Now she is going to probably search the entire house here just to find that key to the door. Escape players, you will now be in the shoes of Alicia here and right-now the only solution was that key. Will you be able to find it so she can get inside her dressing room?
Cyber Monday Shopping Shoe Escape is a brand new point and click indoor item retrieval escape game from 8b Games.
Other games by -
Walkthrough video for Cyber Monday Shopping Shoe Escape