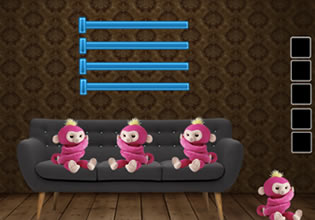 Cyber Monday Escape 3
We were able to help Kim in the previous game escape players, and that's all thanks to you. But this time we will be joining another person who is experiencing the exact same situation as Kim's and as weird as it sounds, they almost have the same ritual! Which was cyber Monday.
Cyber Monday however was a little-bit different for Stan who is now experiencing the same thing as Kim's. But just like Kim, Stan was about to leave his house for he is going to do his weekly ritual which was cyber Monday, he is just going to go and purchase some computer parts and other stuff but that day, he can't for he is now locked inside his house! Escape players, looks like somebody needs our help here and this time it's Stan. Will you be able to help him out then so he can be on his way for cyber Monday?
Cyber Monday Escape 3 is the newest point-and-click indoor escape game from 8B Games and Games 2 Mad. This game is a continuation of the previous one as its sequel, and is a part of the first game as the start of the series.
Other games by -
Walkthrough video for Cyber Monday Escape 3